The last stage of our trip was in the north of Finland. We were gently received by Janne Mustonen from Oulu Innovation who was the one coordinating our meetings.
We met Sari Päivärinta from Nokia Mobile Zone, where they showed us some really interesting projects that are being developed, like secure payments through SMS, or applications control with a small ball, for instance. We also tried swype input method, which worked really fine.
Tomi Väisänen gave us a speech on code testing and security and introduced Codenomicon tool Defensics.
We also had meetings with Esa Posio from Center for Internet Excellence (University of Oulu) and Heikki Ailisto from VTT Technical Research center of Finland, who were talking about their collaboration models and how they encourage partnership. Again, it's amazing how the public sector, companies and Universities work together to help entrepreneurship.
Annti Pelkonen from Ixonos was explaining us their expertize areas, focused on application development for Symbian and also on an open source web application for citizens portals, based on Alfresco, that is being used in many councils in Finland.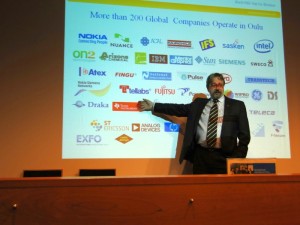 In the afternoon,  we went to Technopolis Smarthouse where Juha Ala-Mursula from Bussiness Oulu,  and Martti Elsilä explained us the City of Oulu Ecosystem and the services provided by Technopolis to set up in Finland.
I think that in the end I will be considering the option of moving to Scandinavia :-).
Thanks to all!