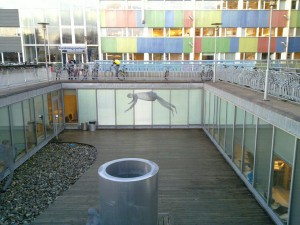 Yet in Oslo, we visited IKT Norge where Fredrik Syversen (Director of Development) received us, and explained the main purposes of the institute for the Norwegian ICT industry.
There, Liv Freihow and Benedicte Fasmer showed us the big projects Norway is carrying out regarding green technology by creating huge data centers in the north, using the natural cooling systems and recycling the extracted heat.
We were talking later on with Torgeir Waterhouse (Director of internet and new media) about how they are increasing their participation in open source initiatives, and showed explicit interest on our expertize on MeeGo and Webkit.
We also visited Monika Svanberg at Forskningsparken which is more focused on helping start-ups. and gave us some hints on how to collaborate with different strategic sectors on Norway.
Thanks to all!