During this week, Igalia is taking part on a technological visit to Nordic IT research centers. Our purpose is to learn from them in which areas they are focusing their innovation, and study how our experience could be used to create common opportunities. Also we would like to open new collaborative paths for the work being done from the web group, and more concretely for NavalPlan application, either by getting in touch with free software associations interested in providing solutions based on this free software planning tool, or industrial clusters that could consider its evaluation.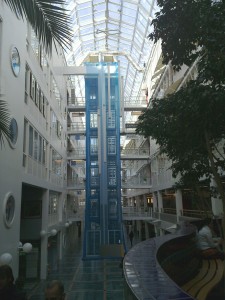 The two days I was at Stockholm I could met the next people:
Daniel Stenberg and Simon Josefsson from Fossgrupen, seeing that we are hacking on related technologies as libsoup, tinymail/modest and Kerberos protocol, or GTK stuff, for instance (Andreas Nilsson is part of that group). As they have also connections with companies providing services to different sectors, that leaves a path open for opportunities based on NavalPlan web application.
At Kista, we met Hans Hentzell, the CEO of Swedish ICT, explaining how this group of research institutes is open to collaboration with European companies interested in joint investigation projects. He introduced us Acreo, a little bit more focused on pure electronics.
We met Ingvar Sjöberg, head of Digital Art Center, and the guy who designed the Mindball! As far as art and creativity, on particular in the web, is conditioned by the browsers, we see that the work that is being done on engines like WebKit it is an important factor in their success.
I thank all of them for their time.