Igalia's Web Platform team is looking for new members. In this blog post, I'll explore the kinds of work our team does, plus a little about what working at Igalia is like.
If you're interested in the position, please apply using the following form: https://www.igalia.com/jobs/web_platform_engineer
Working at Igalia
Igalia has more than two decades of experience working on free software, actively participating in open source communities, and contributing code to many upstream projects. We are now in a position that allows us to commit and own new features in many of those communities, while becoming a trusted partner that people know they can rely on.
That's cool and all, but the best part is how we organize ourselves in a cooperative with a flat structure, where we all take part in the decisions that affect us, and (eventually) we all become co-owners of the company. Our model is based on strong values, and focused on building a new way to understand the IT industry and run a company. At Igalia, everyone gets paid the same, we all share responsibility for the company's success and the rewards for our work.
At Igalia, we provide a remote-friendly, collaborative, and supportive environment, driven by principles of diversity and inclusion. There are currently over 120 Igalians from all over the world, and we have been a remote-friendly company for more than a decade.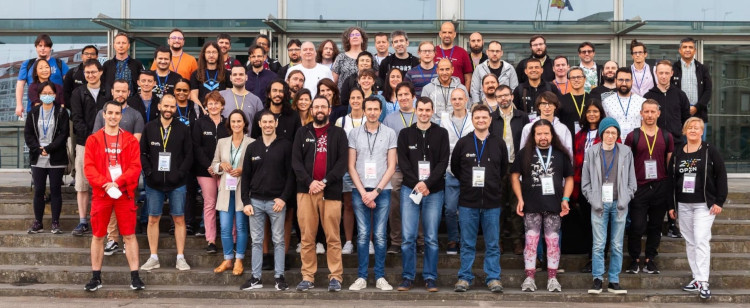 Picture of a group of Igalians attending Igalia Summit in June 2022
About the Web Platform team
If I had to describe the work we do in the Web Platform team in one sentence, I'd say something like: implementing web platform features in the different open source browser engines. That's quite a high level definition, so let's go into some more specific examples of what we've done this year (though this is not an exhaustive list):
Shipped some features: :has() and inert in Chromium, CSS Containment and :focus-visible in WebKit.
Got MathML ready to ship in Chromium (hopefully shipping by the end of the year), and improved its interoperability in other rendering engines.
Worked on Interop 2022 in WebKit and Gecko: Cascade Layers, CSS Containment, Forms, etc.
Landed a variety of accessibility features and improvements: accessible name calculation, AOM (accessible actions and attribute reflection), Orca screen reader maintenance, etc.
Helped ship the Custom Highlight API in Chromium and implement the ::spelling-error and ::grammar-error pseudos.
Added support for Custom Protocol Handlers in Chromium.
Took over Firefox Reality development and released Wolvic, the open source WebXR browser.
"Implementing" the features is not the whole story though, as they usually involve a bunch of other work like proposals, specs, and tests. It's really important to be able to navigate those situations, and seek consensus and agreement from the parties involved, so our team has a great deal of experience working on specs and participating in the relevant standards bodies.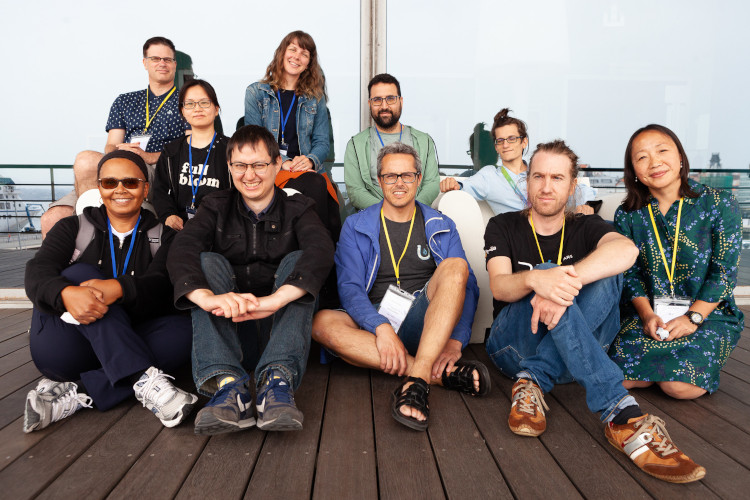 Picture of some members of the Web Platform team during Igalia Summit in June 2022. From left to right: Brenna Brown, Rob Buis, Cathie Chen, Frédéric Wang, Valerie Young, Manuel Rego, Javier Fernández, Andreu Botella, Sergio Villar, Ziran Sun
We meet twice a year at Igalia Summit. Not everyone can always make it to A Coruña (Galicia, Spain) in person, but we look forward to everyone visiting HQ eventually.
We have around 20 team members with a variety of backgrounds and locations, from Australia to Brazil to San Francisco and beyond. We collaborate with many others in the company, including some well known folks like Brian Kardell and Eric Meyer, who are always spreading the word about the great work we do.
Send your application
So if you're interested in joining the Web Platform team at Igalia, please fill the form on our website.
Just in case you're wondering about the interview process, you won't be asked to do a live coding exercise or anything like that. The interviews are intended to allow both you and Igalia to get to know each other better.
If the Web Platform team doesn't sound right for you, it might be worth checking out some of our other open positions.
Feel free to contact me if you have any questions about the position or Igalia as a whole.
---