Another year, another Web Engines Hackfest. Following the tradition that started back in 2009, Igalia is arranging a new edition of the Web Engines Hackfest that will happen in A Coruña from Monday, 2nd October, to Wednesday, 4th October.
The hackfest is a gathering of participants from the different parts of the open web platform community, working on projects like Chromium/Blink, WebKit, Gecko, Servo, V8, JSC, SpiderMonkey, Chakra, etc. The main focus of the event is to increase collaboration between the different browsers implementors by working together for a few days. On top of that, we arrange a few talks about some interesting topics which the hackfest attendees are working on, and also arrange breakout sessions for in-depth discussions.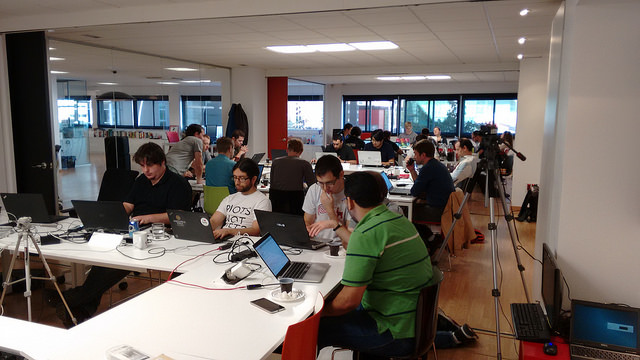 Web Engines Hackfest 2016 Main Room
Last year almost 40 hackers joined the event, the biggest number of attendees ever. Previous attendees might have already received an invitation, but if not, just send us a request if you want to attend this year.
If you don't want to miss any update, remember to follow @webhackfest on Twitter. See you in October!
---