Presenting the Web Engines Hackfest
After the Google's fork back in April 2013, WebKit and Blink communities have been working independently, however patches often move from one project to another. In addition, a fair amount of the source code continues to be similar. Thus, it seems interesting to have a common place to discuss topics of shared interest and make plans for the future. For that reason, Igalia is announcing the Web Engines Hackfest that would happen in December 7-10 in our main office in A Coruña (Spain). This is like a new edition of the WebKitGTK+ Hackfest that we've been organizing since 2009, but this year changing the focus in order to make a more inclusive event.
The Hackfest
The new event will include members from all parts of the Web Platform community, not restricted to WebKit and Blink, but open to the different Web (Gecko and Servo) and JavaScript (V8, JavaScriptCore and SpiderMoney) free software engines.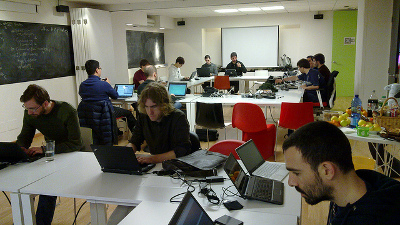 Past year hackfest picture by Claudio Saavedra
The idea is to bring together implementors from the Open Web Platform community in a 4-day hacking/discussion/unconference event with the goal of moving forward different topics, discuss common issues, make plans for the future, etc.
And that's what makes this event something different. It's a completely hacking oriented event, where developers sit together in small groups to work for a few days pursuing some specific goals. These groups of interest are defined at the beginning of the hackfest and they agree the different tasks to be done on during the event.
Thereby, don't expect a full scheduling in advance with a list of talks and speakers like in a regular conference, this is something totally different focused on real hacking.
Join us
After the first round of invitations we've already a nice list of people from different companies that will be attending the hackfest this year.
The good news is that we still have room for a few more people, so if you're interested in coming to the event please contact us.

Adobe and Igalia are sponsoring the Web Engines Hackfest 2014
Thanks to Adobe and Igalia for sponsoring the Web Engines Hackfest and make possible such an exciting event.
Looking forward to meet you there!