Past October Igalia participated on TPAC 2018 with 12 people, I believe it was the biggest presence of igalians in this event ever, probably because of proximity to many of us (as it happened in Lyon) but also reflecting our increasing presence on the web platform ecosystem.
Apart from TPAC itself, Igalia also participated on the W3C Developers Meetup that happened the very same week, where I gave a talk about how to contribute to CSS (more about that later).
Igalia booth at TPAC
In the Igalia booth we were showcasing some of our last developments with different demos running on embedded devices, in which you could find our more recent work around the web platform (WebRTC, MSE, CSS Grid Layout, CSS Box Alignment, MathML, etc.). These demos were using WPE a WebKit port optimized for low-end platforms developed by Igalia.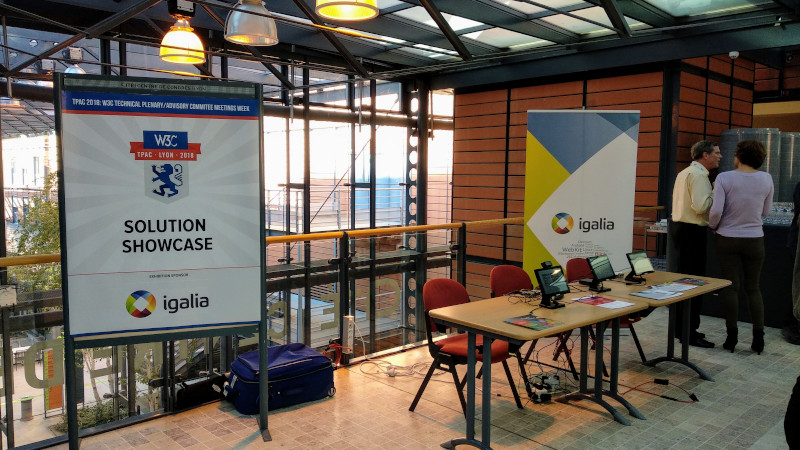 Igalia booth at TPAC 2018
Be part of CSS evolution
As I mentioned in the introduction, I gave a talk in the W3C Developers Meetup. My talk was called "Be part of CSS evolution" and it tried to explain how the CSS Working Group works and also how anyone can have a direct impact on the development of CSS specifications by raising issues, providing feedback, explaining use cases, etc.
The slides of the talk can be found on this blog and the video has been recently published in Vimeo.
Video of my talk "Be part of CSS evolution"
MathML
Most of the people that came to our booth asked about this topic, it's clear there are a lot of people interested in MathML. As you might already know Igalia has been looking for funding to implement MathML in Chromium and during TPAC we got the confirmation that NISO will be sponsoring an important part of this work.
At TPAC there were several concerns about the future of MathML, and a TAG review was requested just after the conference. Igalia has been in conversations with many people since TPAC: TAG members, Google engineers and folks interested on reviving MathML specification. Past month a new MathML Refresh Community Group has been created and TAG review has been closed with a positive answer regarding the future of MathML.
On top of the specs work, Chromium implementation is in progress and more news will be released soon at mathml.igalia.com about the status of things. If your company would like to support MathML please don't hesitate to contact us. Stay tuned!
Other
In my case I was attending CSS Working Group and Houdini Task Force meetings, it's always a pleasure to share a room with such amount of brilliant people working hard on defining the future of CSS. Several people were quite interested about the work Igalia has been recently doing around CSS Containment specification (more info in my previous post). It seems this spec has some potential to become relevant regarding web rendering performance.
Apart from that, there were a bunch of interesting breakout sessions on the technical plenary day. I'd like to highlight the one given by fantasai and Marcos Cáceres about "Spec Editing Best Practices", it was really interesting to understand how both write specs to make things easier for people reading them.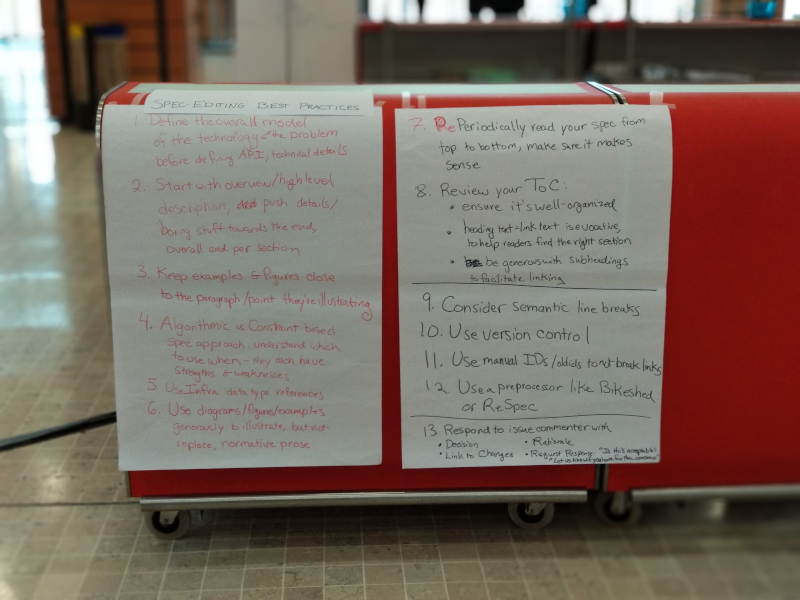 "Spec Editing Best Practices" notes by fantasai
Last but not least, despite being most of the day at TPAC we found some time to enjoy Lyon during dinners at night, it looks a nice city.
---