WPE is a new WebKit port optimized for embedded platforms that can support a variety of display protocols like Wayland, X11 or other native implementations. It is the evolution of the port formerly known as WebKitForWayland, and it was born as part of a collaboration between Metrological and Igalia as an effort to have a WebKit port running efficiently on STBs.
QtWebKit has been unmaintained upstream since they decided to switch to Blink, hence relying in a dead port for the future of STBs is a no-go. Meanwhile, WebKitGtk+ has been maintained and live upstream which was perfect as a basis for developing this new port, removing the Gtk+ dependency and trying Wayland as a replacement for X server. WebKitForWayland was born!
During a second iteration, we were able to make the Wayland dependency optional, and change the port to use platform specific libraries to implement the window drawings and management. This is very handy for those platforms were Wayland is not available. Due to this, the port was renamed to reflect that Wayland is just one of the several backends supported: welcome WPE!.
WPE has been designed with simplicity and performance in mind. Hence, we just developed a fullscreen browser with no tabs and multimedia support, as small (both in memory usage and disk space) and light as possible.
Current repositories
We are now in the process of moving from the WebKitForWayland repositories to what will be the WPE final ones. This is why this paragraph is about "current repositories", and why the names include WebKitForWayland instead of WPE. This will change at some point, and expect a new post with the details when it happens. For now, just bear in mind that where it says WebKitForWayland it really refers to WPE.
Obviously, we use the main WebKit repository git://git.webkit.org/WebKit.git as our source for the WebKit implementation.
Then there are some repositories at github to host the specific WPE bits. This repositories include the needed dependencies to build WPE together with the modifications we did to WebKit for this new port. This is the main WPE repository, and it can be easily built for the desktop and run inside a Wayland compositor. The build and run instructions can be checked here. The mission of these repositories is to be the WPE reference repository, containing the differences needed from upstream WebKit and that are common to all the possible downstream implementations. Every release cycle, the changes in upstream WebKit are merged into this repository to keep it updated.
And finally we have Metrological repositories. As in the previous case, we added the dependencies we needed together with the WebKit code. This third's repository mission is to hold the Metrological specific changes both to WPE and its dependencies, and it also updated from the main WPE repository each release cycle. This version of WPE is meant to be used inside Metrological's buildroot configuration, which is able to build images for the several target platforms they use. These platforms include all the versions of the Raspberry Pi boards, which are the ones we use as the reference platforms, specially the Raspberry Pi 2, together with several industry specific boards from chip vendors such as Broadcom and Intel.
Building
As I mentioned before, building and running WPE from the main repository is easy and the instructions can be found here.
Building an image for a Raspberry Pi is quite easy as well, just a bit more time consuming because of the cross compiling and the extra dependencies. There are currently a couple of configs at Metrological's buildroot that can be used and that don't depend on Metrological's specific packages. Here are the commands you need to run in order to test it:
Clone the buildroot repository:

git clone https://github.com/Metrological/buildroot-wpe.git

Select the buildroot configuration you want. Currently you can use raspberrypi_wpe_defconfig to build for the RPi1 and raspberrypi2_wpe_defconfig to build for the RPi2. This example builds for the RPi2, it can be changed to the RPi1 just changing this command to use the appropriate config. The test of the commands are the same for both cases.

make raspberrypi2_wpe_defconfig

Build the config

make

And then go for a coffee because the build will take a while.
Once the build is finished you need to deploy the result to the RPi's card (SD for the RPi1, microSD for the RPi2). This card must have 2 partitions:

boot: fat32 file system, with around 100MB of space.
root: ext4 file system with around 500MB of space.

Mount the SD card partitions in you system and deploy the build result (stored in output/images) to them. The deploy commands assume that the boot partition was mounted on /media/boot and the root partition was mounted on /media/rootfs:

cp -R output/images/rpi-firmware/* /media/boot/
cp output/images/zImage /media/boot/
cp output/images/*.dtb /media/boot/
tar -xvpsf output/images/rootfs.tar -C /media/rootfs/

Remove the card from your system and plug it to the RPi. Once booted, ssh into it and the browser can be easily launched:

wpe http://www.igalia.com
Features
I'm planning to write a dedicated post to talk about technical details of the project where I'll cover this more in deep but, briefly, these are some features that can be found in WPE:
support for the common HTML5 features: positioning, CSS, CSS3D, etc
hardware accelerated media playback
hardware accelerated canvas
WebGL
MSE
MathML
Forms
Web Animations
XMLHttpRequest
and many other features supported by WebKit. If you are interested in the complete list, feel freel to browse to http://html5test.com/ and check it yourself!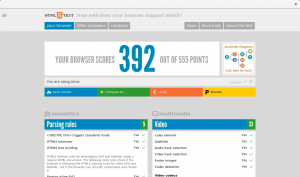 Current adoption status
We are proud to see that thanks to Igalia's effort together with Metrological, WPE has been selected to replace QtWebKit inside the RDK stack, and that it's also been adopted by some big cable operators like Comcast (surpassing other options like Chromium, Opera, etc). Also, there are several other STB manufacturers that have shown interest in putting WPE on their boards, which will lead to new platforms supported and more people contributing to the project.
These are really very good news for WPE, and we hope to have an awesome community around the project (both companies and individuals), to collaborate making the engine even better!!
Future developments
Of course, periodically merging upstream changes and, at the same time, keep adding new functionalities and supported platforms to the engine are a very important part of what we are planning to do with WPE. Both Igalia and Metrological have a lot of ideas for future work: finish WebRTC and EME support, improvements to the graphics pipelines, add new APIs, improve security, etc.
But besides that there's also a very important refactorization that is being performed, and it's uploading the code to the main WebKit repository as a new port. Basically this means that the main WPE repository will be removed at some point, and its content will be integrated into WebKit. Together with this, we are setting the pieces to have a continuous build and testing system, as the rest of the WebKit ports have, to ensure that the code is always building and that the layout tests are passing properly. This will greatly improve the quality and robustness of WPE.
So, when we are done with those changes, the repository structure will be:
The WebKit main repository, with most of the code integrated there
Clients/users of WPE will have their own repository with their specific code, and they will merge main repository's changes directly. This is the case of the Metrological repository.
A new third repository that will store WPE's rendering backends. This code cannot be upstreamed to the WebKit repository as in many cases the license won't allow it. So only a generic backend will be upstreamed to WebKit while the rest of the backends will be stored here (or in other client specific repositories).