Last week we had our most loved annual conference: X.Org Developers Conference 2021. As a reminder, due to COVID-19 situation in Europe (and its respective restrictions on travel and events), we kept it virtual again this year… which is a pity as the former venue was Gdańsk, a very beautiful city (see picture below if you don't believe me!) in Poland. Let's see if we can finally have an XDC there!
This year we had a very strong program. There were talks covering all aspects of the open-source graphics stack: from the kernel (including an Outreachy talk about VKMS) and Mesa drivers of all kind, inputs, libraries, X.org security and Wayland robustness… we had talks about testing drivers, debugging them, our infra at freedesktop.org, and even Vulkan specs (such Vulkan Video and VK_EXT_multi_draw) and their support in the open-source graphics stack. Definitely, a very complete program that is very interesting to all open-source developers working on this area. You can watch all the talks here or here and the slides were already uploaded in the program.
On behalf of the Call For Papers Committee, I would like to thank all speakers for their talks… this conference won't make sense without you!
Big shout-out to the XDC 2021 organizers (Intel) represented by Radosław Szwichtenberg, Ryszard Knop and Maciej Ramotowski. They did an awesome job on having a very smooth conference. I can tell you that they promptly fixed any issue that happened, all of that behind the scenes so that the attendees not even noticed anything most of the times! That is what good conference organizers do!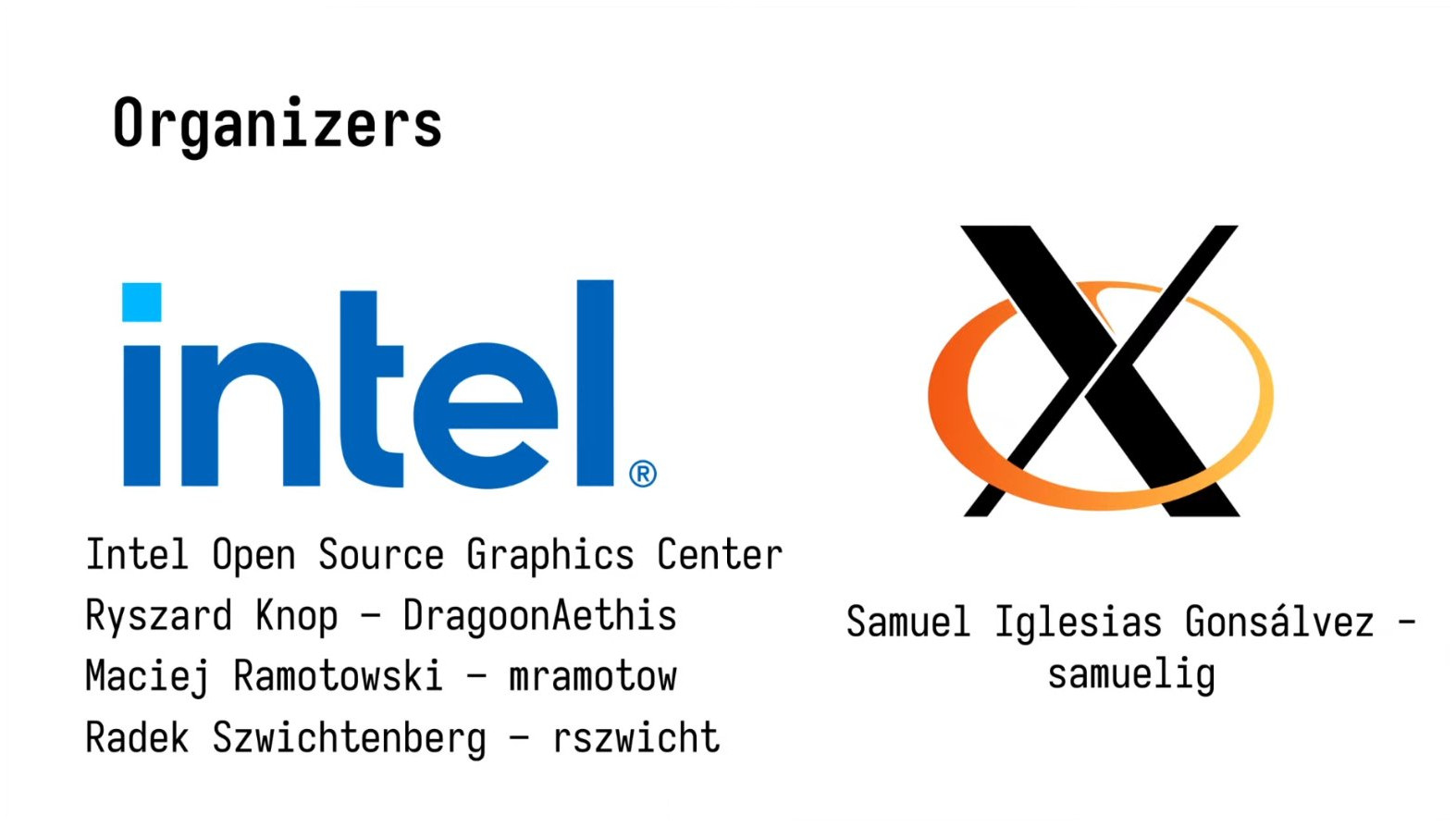 Can I invite you to a drink at least? You really deserve it!
If you want to know more details about what this virtual conference entailed, just watch Ryszard's talk at XDC (info, video) or you can reuse their materials for future conferences. That's very useful info for future conference organizers!
Talking about our streaming platforms, the big novelty this year was the use of media.ccc.de as a privacy-friendly alternative to our traditional Youtube setup (last year we got feedback about this). Media.ccc.de is an open-source platform that respects your privacy and we hope it worked fine for all attendees. Our stats indicate that ~50% of our audience connected to it during the three days of the conference. That's awesome!
Last but not least, we couldn't make this conference without our sponsors. We are very lucky to have on board Intel as our Platinum sponsor and organizer, our Gold sponsors (Google, NVIDIA, ARM, Microsoft and AMD, our Silver sponsors (Igalia, Collabora, The Linux Foundation), our Bronze sponsors (Gitlab and Khronos Group) and our Supporters (C3VOC). Big thank you from the X.Org community!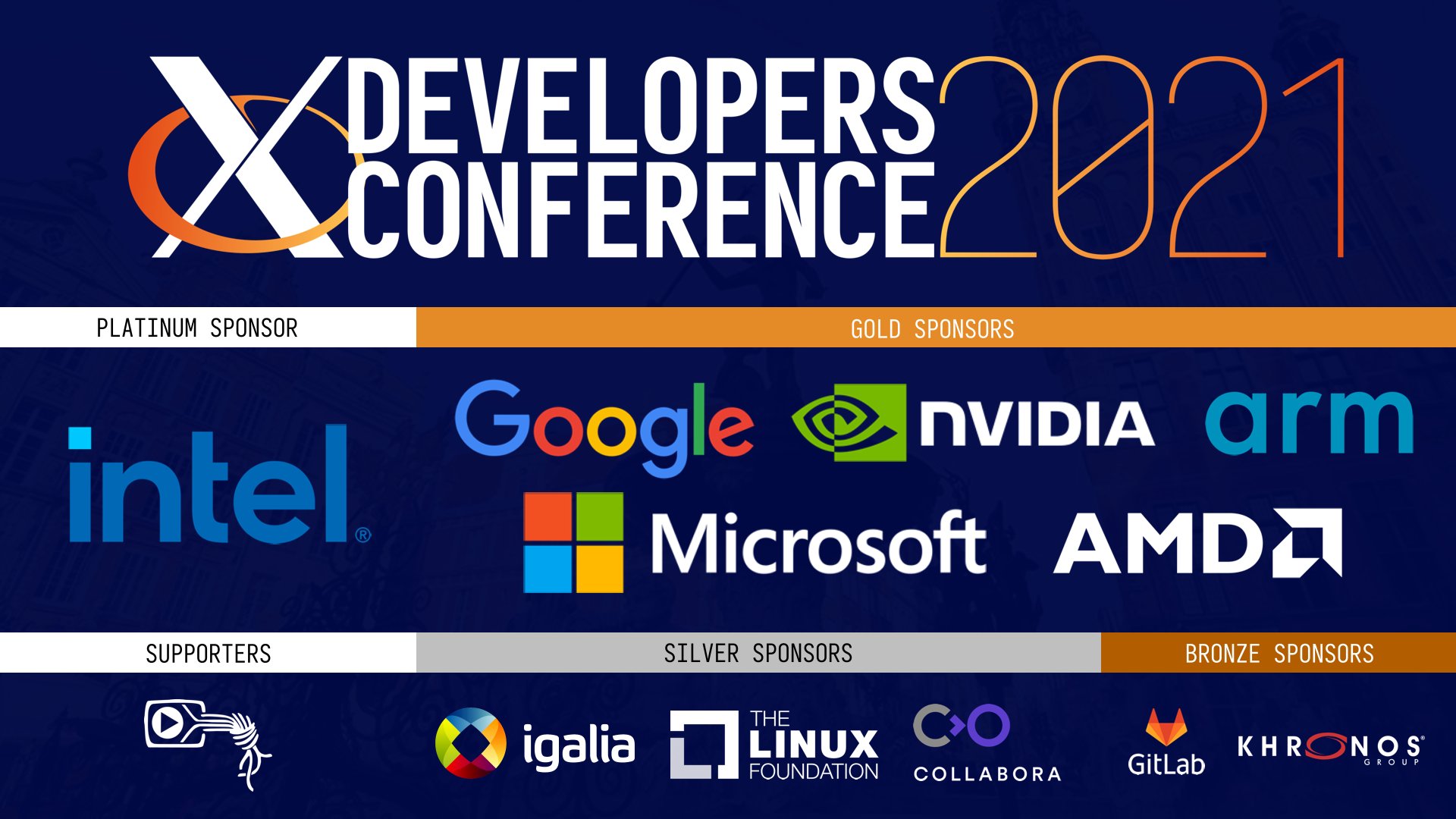 Feedback
We would like to hear from you and learn about what worked and what needs to be improved for future editions of XDC! Share us your experience!
We have sent an email asking for feedback to different mailing lists (for example this). Don't hesitate to send an email to X.Org Foundation board with all your feedback!
XDC 2022 announced!
X.Org Developers Conference 2022 has been announced! Jeremy White, from Codeweavers, gave a lightning talk presenting next year edition! Next year the XDC will not be alone… WineConf 2022 is going to be organized by Codeweavers as well and co-located with XDC!
Save the dates! October 4-5-6, 2022 in Minneapolis, Minnesota, USA.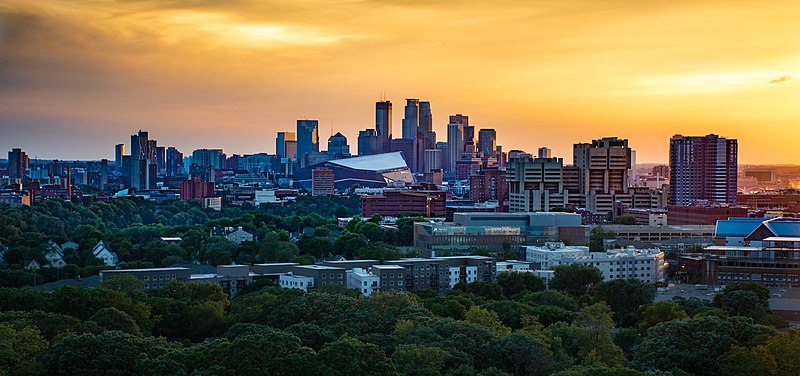 Image from Wikipedia. License CC BY-SA 4.0.
XDC 2023 hosting proposals
Have you enjoyed XDC 2021? Do you think you can do it better? ;-) We are looking for organizers for XDC 2023 (most likely in Europe but we are open to other places).
We know this is a decision that takes time (trigger internal discussion, looking for volunteers, budget, a venue suitable for the event, etc). Therefore, we encourage potential interested parties to start the internal discussions now, so any question they have can be answered before we open the call for proposals for XDC 2023 at some point next year. Please read what it is required to organize this conference and feel free to contact me or the X.Org Foundation board for more info if needed.
Final acknowledgment
I would like to thank Igalia for all the support I got when I decided to run for re-election this year in the X.Org Foundation board and to allow me to participate in XDC organization during my work hours. It's amazing that our Free Software and collaboration values are still present after 20 years rocking in the free world!


---