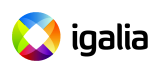 It has been a long way, but we finally have a brand new logo for Igalia.
This very dynamic and positive logo, based in four identical pieces that cooperate, was designed by Denis Radenkovic, of 38one (recommended to us by Jon Hicks, the Firefox logo designer), and it is inspired by the concepts of collaboration and knowledge sharing that are so related to the concept of free(dom) software.
In September we will be 5 years old as a company, we are each time more and more involved in the free software community, and it seems to me a perfect moment for refreshing our image.
During the next weeks, our webpage, and all the corporative material will be progressively updated. Bye, bye, igalia's triangle.